Yeah, it's all about me.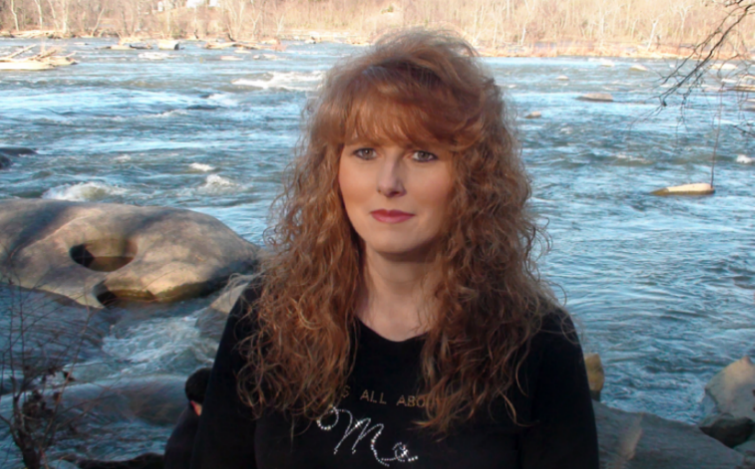 I'm so glad you want to know about me, so don't dilly dally…go ahead and I'll be quiet and let you read…
Who Is The Redhead Riter?
My pen name is The Redhead Riter which is "Writer" purposely misspelled. I wanted the alliteration of the "R's" thus the "Writer" is spelled "Rong"…Yes, I know the proper spelling for "Wrong" too.
I'm a grown woman, but I often use my childhood photo as my profile picture because it brings back wonderful memories. That is what our existence on this planet is filled with…one memory after the next whether they are happy, sad, good or bad. So if a picture of my funny bouffant helps me to feel happy, then I am going to enjoy it!
I'm also a natural redhead with glow-in-the-dark skin that simply cannot tan. Oh goodness! The crazy things I have tried in order to have the coveted golden bronze tan (rolling eyes). If you ever see me tanned, call the FBI because it will be an alien posing as me. That means I am stuffed in a closet somewhere and need rescuing (wink) .
As you know, in some eras redheads were worshipped while others thought us witches. I'm sure it had to do with the uncontrollable anger most redheads seem to have, but mine has been coped with and is kept in a padlocked trunk in the basement. Personally, I prefer to think redheads should be worshipped as they were during ancient times and every day is "Love a redhead day!" Don't you agree?
My Life
I'm the oldest of two children and my parents divorced when I was ten years old. That was a hellish experience, but I survived and emerged as an extreme introvert. Having very few friends, I found comfort in books and excelling in school. I graduated from high school and while attending college, I "blossomed" into an extrovert. Now people gravitate to me and feel so comfortable that they tend to tell me all their deepest darkest secrets. Maybe I should have been a psychologist.
I've been married twice and I am not ashamed of that number.  It just means that I keep on trying to find a lasting relationship that enables us both to flourish.  During my first marriage, I was blessed to become a mother to my only biological child who is my greatest pleasure and accomplishment. However, since my niece lived with me for eleven years, I love Brittany like my own redheaded child. No matter how much success I may have in my future or have had in my past, my greatest accomplishment is being Alyssa's mother. She is everything I could ever want in a daughter and her kind, gentle, compassionate spirit has helped to make me a better person. Any sacrifices I have made on her behalf have been worth it and I would do it all over again just to ensure her happiness and success.
Professionally, I've been a busy woman learning, growing and have seen success as a hotel General Manager with a major chain (by far the hardest job I've ever had), owned/own my own businesses and currently enjoy a career at a well known global corporation that believes in moving their employees to different roles all the time to enable growth (rolling my eyes).
My newest endeavor has been blogging. I started this blog in the latter half of 2009 and would have done so earlier, but I didn't know "blogs" even existed!
Why Read The Redhead Riter?
The Redhead Riter is witty, intelligent and has something of interest for everyone.  I am a very eclectic woman. I love to write, learn and teach which makes blogging the perfect place for me. It also makes my blog the perfect place for you. Actually I'm hoping you will become addicted and return all the time! I will keep cooking and posting those photos to lure you here just to make sure you return.
You'll find that my posts have BIG PICTURES because I am very visually oriented. I love getting lost in a picture.
Since I am a Woman Aging With Style, this blog will remain a work in progress. It is filled with a wealth of information on aging, cooking, parenting, marriage, art, inspiration, places in Virginia to see (especially Richmond) and blogging tips to help enhance the skills necessary to have a successful blog. Oh yeah, everything that happens in my life including my journey to heal from PTSD when I found myself catapulted to Hell. Do you think I can cram anything else in that list?
A Few (36 actually) Facts About The Redhead Riter
I have a turtle named Turtle who lives in a 55 gallon tank. I'm really creative at naming things. Can you tell? Do you want me to name your child or pet?
I love to write.
I can knit, crochet, sew, needlepoint, quilt, embroider and do crafty things like this bookcase. I love feeling all that stuff in my hands. Yeah, I'm a "hands on" person. LOL
I love cutting men's hair and grooming dogs – not that the two are related. Well, sometimes they are related, but not always.
I have always taken tons of photos.
I prefer watching movies while reclining on the couch in my pajamas instead of at the theater. Why? Well, if I want to get a snack or say something, there is a great button called PAUSE. Yep, I love that button.
I love to read and find the whole process of a bunch of letters put together to make words that explain concepts to be totally fascinating!
Cooking makes me feel good and my tastebuds love me for it.
I love to write. Did I say that already?
I love to watch the sun rise and set. It is peaceful, calming and very romantic.
I could listen to the snow fall for hours. This is how I make snowballs on Twitter
I named the little Twitter art person that I use all the time. He is named "Humphrey" and I have no idea why I chose that name. It just seems to fit him.
I am a hopeless romantic.
I made an A+ in Calculus and I enjoyed it which is something my mother simply cannot understand!
Sometimes I have a rather weird sense of humor.
Music is wonderful whether it is barely audible or shaking the glass in the windows.
Gardening is relaxing, but I don't like bugs.
I really, really, really love to write.
Creating Excel spreadsheets is thrilling (yeah, I'm a bit of a nerd)
Blue and white are my favorite colors.
I love deeply.
My broken heart heals slo-o-o-o-owly.
I am terrible with directions.
I love hugs, kisses and stuff. Yes, most redhead jokes are true. (Seriously laughing my head off)
I don't wear shoes in the house.
There's a good reason why I think hardwood floors are better than wall-to-wall carpets.
I have a passion for writing.
I think the moon is elegant.
After trying to do that booty shaking dance, my daughter said, "Never do that in public." No, I can't dance.
I like my fingernails to be relatively short and all of them the same length which means when one breaks, they all have to be filed down. Uneven nails drive me crazy! If you leave your nails uneven, please hide your hands in your pockets so I can't see them.
Clumsy is my middle name.
The sound of the ocean waves crashing on the beach is equally relaxing and sexy.
I am sincere, compassionate and blunt.
I like to be surrounded with peace, harmony and love. Yeah, that probably sounds like a hippie or a beauty pageant contestant, but it's true!
I sing like a dying cow – not joking! Even my mother and daughter prefer not to hear me sing. Isn't that just pathetic?
And finally, I love to write because the written word is really exciting!
If you want more information on The Redhead Riter just visit my blog every day! You can also write me any time by using the contact page.
Subscribe to The Redhead Riter
You don't want to miss anything and subscribing is a great way to get a reminder that I've published a new post. Please take a minute to sign up so that you can be notified every time a new post is added to my blog either through an RSS feed.
I also encourage you to stay in touch with me on Twitter, Facebook, Instagram, YouTube, Stumble, Google+ and Pinterest.
Yeah, I'm everywhere…like sunshine!
I know I didn't just hear my daughter say, "like dust."  That's okay. I'm going to ground her until she's 45 years old.